Two-Factor Authentication & How to Enable on SSH
Converted from Blogger. Please excuse any layout errors!





How to Enable Two-Factor on SSH
Package:
sudo apt-get install libpam-google-authenticator
yaourt google-authenticator-libpam-git
source from: https://code.google.com/p/google-authenticator/
Now run "google-authenticator" as the user you want to generate a key for.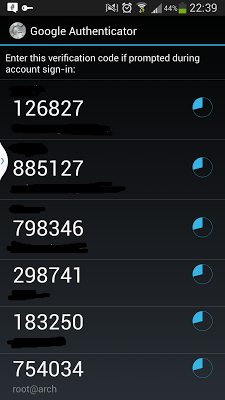 Add the code to your smartphone using the Google Authenticator app
Next you have to setup Google Authenticator for SSH logins.

Open the /etc/pam.d/sshd file on your system
sudo nano /etc/pam.d/sshd and add the following line to the file:
auth required pam_google_authenticator.so
Open the /etc/ssh/sshd_config file, go to the ChallengeResponseAuthentication line, and change it to:
ChallengeResponseAuthentication yes
(If the ChallengeResponseAuthentication line doesn't exist, add it.)
Restart the SSH server, these commands depend on your distribution:
sudo service ssh restart
systemctl restart sshd

It should work now!
Backup your Google Authenticator
(This location may vary. But it's in the general area)
Then use sqlite to pull the data. Or cat the file.